Multi Room Heat Pump System
Heat or cool 2, 3 or 4 rooms from just one outdoor unit!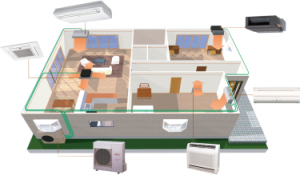 The Fujitsu Inverter Multi System is a Heat Pump & Air Conditioning system designed with flexibility in mind.
With the introduction of indoor Heat Pump & Air Conditioning units in a range of capacities and types, Fujitsu have made it easy to air condition or heat all sorts of homes and room types in New Zealand.
With the Fujitsu Inverter Multi System, you can easily heat (or cool) two, three or four rooms using only one outdoor unit.
For each room, you're able to choose a different style of indoor unit (hi-wall, floor console, ceiling or bulkhead) to best match each space and your own preferences.
The Fujitsu Inverter Multi System also gives you individual control in each of the rooms.
Like a free, no obligation quote for one of these excellent Multi-Room systems? 
Contact Supreme Air, your local Tauranga Air Conditioning & Heat Pump team.