Supreme Air – Your local Tauranga specialists in Air Conditioning & Heat Pumps
Need a new Air Conditioning & Heat Pump system for your home or office?
Or do you need a reliable repair and maintenance partner for your existing Air Conditioning or Heat Pump system?
Supreme Air Tauranga are your go-to guys.
The Tauranga Supreme Air team are Air Conditioning and Heat Pump specialists with decades of experience. We can recommend, supply and install the best Air Conditioning system, Heat Pump or Ventilation systems to fit your needs, then keep it running like a dream with expert servicing.
We specialise in:
Air Conditioning
Heat Pumps
Refrigeration systems
Ventilation & Extraction systems
Hot Water Heating systems
Visit our Tauranga showroom at Hull Road, Mount Maunganui – or call us and we'll come to you for a free, no-obligation quote.
Why choose supreme air tauranga:
We are your local Tauranga Air Conditioning & Heat Pump specialists. We offer top quality, expert service at competitive rates.
We offer free, no-obligation quotes – just contact us!
Whether it's the air in a family living room or the air in an surgical theatre, Supreme Air Tauranga are able to ensure the correct temperature and air quality.
Supreme Air Tauranga has a very extensive range of products on offer and services available, so we can tailor-make a solution to meet your unique needs.
Supreme Air Tauranga is proud to be Fujitsu Dealers for the Tauranga and wider Bay of Plenty Region. All our Air Conditioning and Heat Pump installers are Fujitsu accredited and we offer a full

6 Year Manufacturer's Warranty.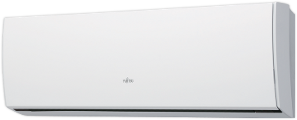 Compact Hi-Wall Premier
Official Service Agents for Airwell, Sanyo and Emailair Air Conditioning systems & Heat Pumps in New Zealand.
Supreme Air Tauranga has an expert team who are on-call 24/7/365, to attend any commercial refrigeration breakdowns – from small retail systems to large supermarket systems. We also supply a range of ice machines and refrigeration chillers and freezers.
We now also have portable Air Conditioning systems for hire!! Call our Tauranga team to find out more.
 Contact our Tauranga team, we'll help you find the best solution to fit your needs.
Contact one of our friendly Tauranga team to discuss your requirements. We can provide a comprehensive, free quote for a Heat Pump & Air Conditioning system or other environmental control system to suit your specifications, all at a very competitive rate.
Our Tauranga team are trade qualified and highly experienced, so you can rest assured that you'll receive only the highest standard of service.
Supreme Air Tauranga also has a strong commitment to minimising our effect on the environment; so you know you are dealing with a company with a conscience.