Hot Water Heat Pumps
Supreme Air Tauranga design, supply and install
Hot Water Heat Pump systems to suit your needs.
From single cylinder heating through to a fully-controllable Under Floor/Central Heating system combined with the  Hot Water Heat Pump System. Please view our BROCHURE
Benefits of Heat Pump Water Heaters:
Energy Efficient & Low Cost to Run
Lowest reliable running costs over any other system!
Quiet
So quiet, you'll never know its operating.
$1000 Cash Back
Get $1000 cash back when you install an eligible Supreme Air Tauranga Hot Water Heat Pump. For a limited time only.
Long Life
Your Heat Pump can be reliable used for generations.
Made in New Zealand for New Zealand conditions.
Designed to operate with existing Hot Water Cylinders
or specifically made Duplex Stainless Steel Hot Water Cylinders
Maintains water temperatures up to 60ºC
You Save Money with a Heat Pump
About a third of your annual household electricity bill goes on water heating.
Heat Pump Water Heaters can supply – on average – $3 of hot water for every $1 of electricity they use, making them a very efficient option.
Independently tested to save 60.9% annually of your hot water heating costs annually! (including the frosting penalties in accordance with the new AS/NZS 4234 and Appendix H standard.)
Heat Pump Water Heaters use electricity to move heat rather than generate it. The sun naturally heats the air around your home each day, and a Heat Pump Water Heater on the outside of your house will shift some of this heat into your hot water cylinder.
When looking at what a hot water system might cost you, you need to consider ongoing costs as well as the initial investment. As a guide, a gas or electric system would cost between $1500 to $2500; a Supreme Air Tauranga Heat Pump might cost between $4000 to $5000, and solar water heating units average around $6000. These costs include installation.
Now look at the ongoing running costs: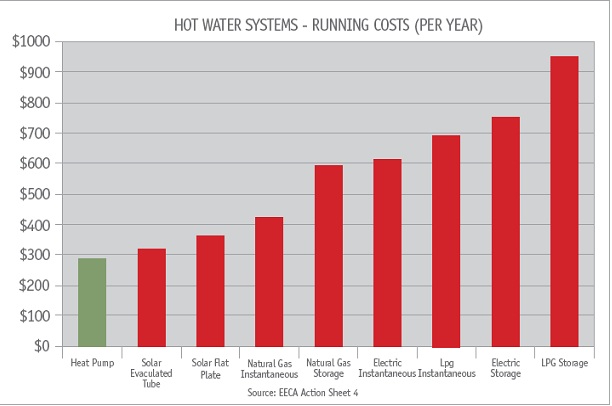 Approximate running costs for a typical family of four. A Supreme Air Tauranga Heat Pump can save you hundreds of dollars every year on your power bill!
Giving you Peace of Mind
In addition to a 7-year warranty on the cylinder, Supreme Air Tauranga offer comprehensive after-sales service on all our Performance Plus Hot Water Heat Pumps.
Supreme Air are your local Tauranga Heat Pump specialists.
Call us for a free, no-obligation quote!
Phone Andrew or Darren today: 07 572 1468