Fujitsu Accredited Installers of Heat Pumps & Air Conditioning Systems
Here's red card you will want to see. It tells you which Heat Pump & Air Conditioning System Installer has been accredited by Fujitsu. When you use a Fujitsu Accredited Installer, you will be covered by 6 years full parts and labour warranty, New Zealand's longest.
You will also have the peace of mind in knowing that you are using a professional, who has the equipment, the training and the skills to install your Fujitsu Heat Pump Air Conditioning system in accordance with the manufacturers installation instructions, and applying sound trade practices.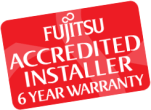 So if you want to be sure you have found New Zealand's best installers for New Zealand's Favourite Air, make sure he shows you the red card!
Please note, these installers have been accredited by Fujitsu, but are not Agents or employees of Fujitsu General New Zealand.
Supreme Air are your Tauranga Air Conditioning & Heat Pump specialists, accredited to install Fujitsu.